This project will reconstruct 4.0 miles of Manufacturing Drive and Bluff Boulevard, a main corridor within the micropolitan community of Clinton in Eastern Iowa, into complete streets that will widen the corridor, introduce a roundabout, separate sewer and sanitary lines and include the planting of green infrastructure to capture rainwater and filter stormwater.
The project will reduce runoff volume and improve water quality, improve signaling, add sidewalks and a bicycle route, add transit shelters and will include intersection modifications for this vital artery of rural Clinton, Iowa.
A Benefit Cost Analysis (BCA) was performed for the Drive to Prosperity Corridor. The project site is a major arterial through the heart of Clinton and will help get people and goods to their destinations more efficiently. The project also supports connectivity to the new bike pedestrian trail system the currently has a gap within the project area. 
The proposed project will result in a net present value total cost of $31,033,139 with a 7% discount rate. The total benefits to the project are estimated to be a net present value of $57,845,500. This results in a Benefit Cost Ratio of 1.86. 

Reducing the amount of stormwater entering the outdated sewer system is critical to mitigate this health hazard and improve the Mississippi River's water quality. Clinton proposes to increase the storm capacity and replace an outdated sanitary sewer system. When discounted over 25 years (at 7% rate), these improvements are expected to provide a $1.10 million benefit. 
Clinton's BCA estimates that the community will save approximately $2,170,000 in crashes per year, beginning in 2024. When discounted over 24 years (7% rate), this amounts to a $20.3 million benefit. 
Some of the Manufacturing Drive and Bluff Boulevard pavement sections are over 100 years old. Maintenance is scheduled approximately every 15 years, with the next maintenance effort scheduled for 2023 and 2025. Given that the project includes extensive roadway rehabilitation and streetscaping (reflected in costs), this maintenance can be deferred until 2038 and 2040. When discounted over 25 years (at 7% rate), this deferred maintenance provides a modest benefit of $2.20 million. 
The project will help residents and commuters avoid the cost of owning a car, particularly low- income households in the opportunity zone along Bluff Boulevard. According to AAA, owning and operating a car costs $8,849 per year (AAA's 2018 Your Driving Costs study). Each vehicle that the project helps an individual avoid owning or using means significant funds are available for other expenses. Providing transportation choices such as improved transit, better walkability and bike lanes helps residents decide to forgo owning a personal vehicle and generates significant local purchasing power. Travel time savings will also contribute to quality of life. Less time spent behind the wheel will provide residents with greater opportunities to enjoy leisure activities. Initially, there will be approximately no improvement in travel time along the corridor. 
However, by 2040 the corridor will experience a 10 second decrease in travel time which is over a 2% improvement. This assumption leans conservative since it only includes the travel time improvement for vehicles along the corridor and ignores any improvement from sidestreet vehicles. Additionally, it does not include any improvement benefit from signal coordination due to potential fiber connectivity. When discounted over 24 years (at 7% rate), this travel time savings equates to a $0.82 million benefit.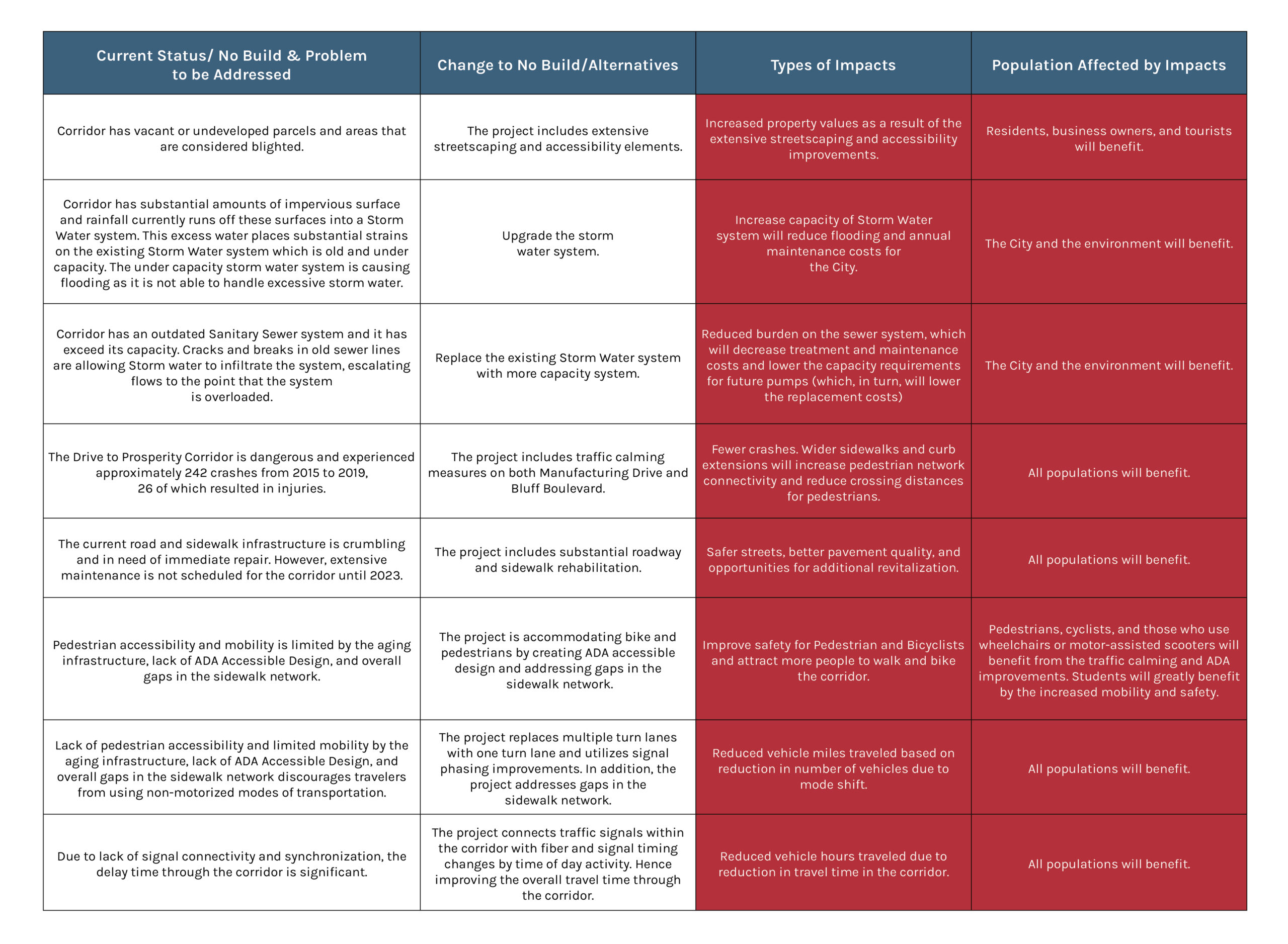 The City of Clinton is applying for the US RAISE grant for the fourth time since 2018.  Over the last four years, the City has made funding the Drive to Prosperity project as one of its top priorities by increasing the funding for the project each year.  The figure below illustrates this commitment where the BUILD grant match has reduced from 72% in 2018 to 45% in the 2020 grant application. Note that this match does not include the $2.0M the City has already invested in acquiring ROW and starting the design of the Manufacturing Drive from US 30 to College Avenue.
The total estimated project budget is $38.1M. This cost includes engineering, construction, property acquisition, and privately funded improvements by Iowa American Water. The Drive to Prosperity project is requesting $19 million from the RAISE Grant. The detailed engineer's estimate of probable cost can be seen here.